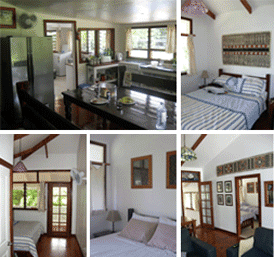 Port Wine Guesthouse—in Town
Just a short walk from the center of town, Portwine Guesthouse is situated in a lush tropical garden. Featuring coconut trees, guava, mei (breadfruit), papaya, frangipani trees, heilala (Tonga's national flower), tongapula, hibiscus, Australian bottle brush, birds of paradise, orchids, bananas, kava plants, giant taro, gardenia, and mangoes. In the main house there are four bedrooms, each with en suite. There is a long wrap-around verandah. The heart of the house is a large shared kitchen. The kitchen includes a microwave, kettle, toaster, fridge, stove, cutlery, glasswear, crockery and cooking utensils and dishes. The shared living room is polished but comfortable. There are also two private fales that can sleep up to six people. Close to departures for sailing, scuba diving, snorkeling and whale watching.
Rates
Room with en suite in new mainhouse 90 TOP per person per night
Private fale with en suite 120 TOP per person per night
Room in the original guesthouse with shared bath 60 TOP per person per night.
Taxi airport to guesthouse one-way 30 TOP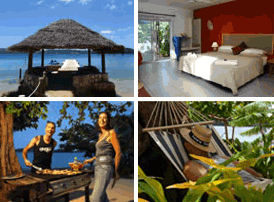 Mystic Sands—on a beach but attached to Vava'u Lahi by causeway
This beach resort has relaxed motel style accommodation. All the units have at least 3 beds and can be made up as singles if desired. The 'family unit' has 4 beds. Situated right on the water with its own pier for pickups to go diving, whale watching, sailing or sports-fishing. Free kayaks for your use and enjoyment. All rooms have a mini kitchen. 10 minutes from the Town centre and 20 minutes from the airport. Taxis, scooters and rental cars are available. Wifi, communal BBQ (local lobster can be purchased)
Rates
Room with en suite and ktichenette 275 TOP per night
Family beachhouse 490 TOP per night (two dbl bedrooms with en suite)
Transport airport to resort one-way per room 95 TOP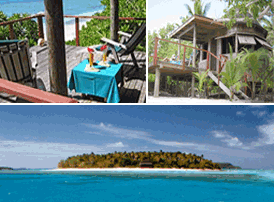 Mounu Island Resort—an idyllic private island 30 minutes from town
Mounu provides private beach accommodation in four separate fales. Each is situated on its own private beach providing views of the surrounding islands and reefs. The architecture is a fusion of traditional Tongan style and western comfort. Ceilings are high providing maximum air flow. All fales are completely private with only the sounds of the sea and birds. All have toilet, hot shower, fans and private sundecks. All are linked to the restaurant/bar through bush walkways, or you can wander along the beach.
Rates
Superior Fale 360 AUD per night
Honeymoon suite 405 AUD per night
Meal plan 160 TOP per person per day.
Transport airport to island one-way per person 160 TOP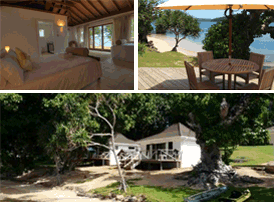 Reef Resort—Island accommodation and culinary delight
Reef Resort is a small beach resort located on a tranquil island in beautiful Vava'u. The resort has only four stunning luxury bungalows (fales) finished to a high standard with tasteful furnishings and a modern feel. Each bungalow is fitted with air conditioning, private decks, walk-in showers, tea/coffee making facilities and refrigerator. In addition, each fale has a music system for connection to an iPod or MP3 player and WiFi internet access. All fales offer fantastic lagoon views as well as privacy.
The Reef Resort is renowned for its unique contemporary Polynesian European gourmet dishes, especially seafood. They serve breakfast, lunch, freshly baked cake for afternoon tea and a 3 course dinner daily. The freshest Tuna, Wahoo, Coral Trout, Snapper and Lobster are all featured. Organic locally grown produce is the main source of seasonal vegetables and fruit. Organic meat and chicken are flown in direct from NZ and compliment the local Vavau produce perfectly.
Rates
Double/twin occupancy 480 TOP per night
Meal plan 140 TOP per person per day (110 for half board).
Transport airport to island one-way per person 50 TOP