Vava'u Cruising guide

2014 Updated Editions
Career sailors Charles and Katherine Paul share information gained from first-hand experience and use detailed illustrations to describe the Kingdom's many unspoiled anchorages and harbours. Tonga's people, its numerous remote and pristine islands, and its Polynesian mystique reward seafaring visitors with a rich South Seas experience to remember.
Sailingbird's Guide to the Kingdom of Tonga features hand-drawn illustrations and detailed descriptions of more than 90 anchorages, over 170 full-color photograpghs, hundreds of snorkeling locations, and some of the Kingdom's best dive sites. Also described are local styles, yacht-friendly establishments, and all boating and diving-related businesses in the Kingdom.
Each of the two volumes of Sailingbird's Guide to the Kingdom of Tonga is published in 2 volumes: Vava'u and Ha'apai/Niuas. Theyretail for $65 NZD.
To order contact melindaseaadventures@sailtonga.com
Charts, Tonga books, reef fish guides, Tongan art, yacht services.
As well as the Sailingbird guide we have an extensive local information available at the Megapode, located near the Mango Cafe and upstairs from The Moorings Office. Come see us for information for navigation charts, books about Tonga's culture and environment, as well as all available yacht services.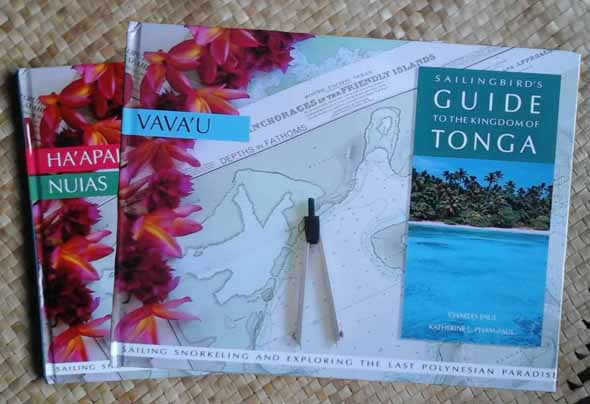 Sailing charter in Vava'u with Melinda Sea Adventures
Sailing in Vava'u is especially rewarding for those who seek a remote unspoiled paradise, combining trade-winds sailing with crystal clear sheltered water. Each day we can visit a different island in the Vava'u group, or on longer trips it is sometimes preferable to stay 2 nights in an anchorage and explore several snorkeling spots. Most of the islands we visit are uninhabited with white sand beaches and interesting reefs for snorkeling. We can also visit an island with a Tongan village and attend a Tongan feast, where the food is authentic and delicious, and the local children perform traditional Tongan dances.
Experience why Vava'u is favored by international cruising yachts
Cruising yachts often come to Vava'u and stay weeks or even months longer than planned. Because of its many safe anchorages, welcoming people, and easily navigated waters, Vava'u is reknowned as the best cruising grounds in the South Paciific. Melinda Sea Adventures has offered sailing charters and whale watching in Vava'u since 1998. "Jocara", our 52 ft cutter and "Independence" our 44 ft catamaran are available for daysails as well as long-term charters. Don't miss the best reason to visit Vava'u year round—sailing in the outer islands. Sail, snorkel, explore!